From Vision to Reality
The Future of Health Professional Wellbeing in Arizona
Learn More About the 2023 Summit
⌄
On September 29, 2023, The Wellbeing Collaborative of Arizona proudly presented a world-class summit designed to gather executive leaders and organizations at the forefront of creating systemic change within the health ecosystem. Discover the influential speakers and participants who engaged in discussions, shared insights, and explored innovative strategies to drive positive impact on the wellbeing of health professionals in Arizona.
2023 Wellbeing Summit Video Recap
Quick Glance into the Summit
66


CEO, CMO, Presidents, VPs, Directors
CEO Panel
A panel of CEOs each shared a wellness initiative they have implemented, how they have evaluated success, and insights into the challenges of successful implementation within their organization.
The Wellbeing Collaborative of Arizona Health Professionals Commitment to Workforce Well-being
Join our Collaborative on the transformational journey to improve the well-being of Arizona's entire health workforce.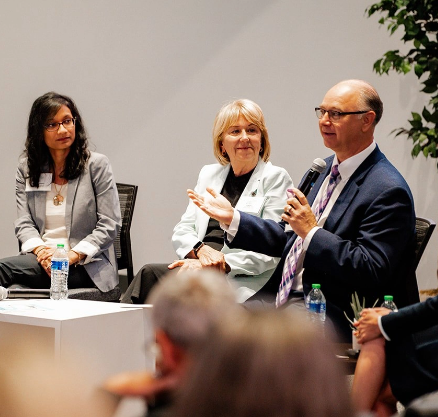 Breakout Sessions & Speakers
Insights Breakouts
Plenary Speaker
Addressing Root Causes of Burnout and Redesigning the Workplace to Promote Wellbeing
Tait Shanafelt, MD
Professor of Medicine and Chief Wellness Officer
Standford School of Medicine
Kindness: The Leadership Strategy for Wellbeing
Tools and frameworks for leading teams and organizations towards a culture of wellness

Stephen Swensen, MD
Co-Author of Strategies to Reduce Burnout: 12 Actions to Create the Ideal Workplace
Opening Eyes and Minds: Visual Thinking Strategies for Healthcare Professionals
Dabney Hailey, MD
Founder & Principle
Hailey Group
Impact Breakouts
Supporting the creation of safe spaces for open & honest dialogue and ideas.
This initiative prioritizes best practices and frameworks that promote safe spaces for health professionals that provides them with an environment where they can engage in open and honest dialogue, facilitating discussions about their wellbeing and allows for the free expression of ideas to support their mental, physical, spiritual, and emotional health.
Transforming workforce development and sustainability.
This initiative is dedicated to transforming workforce development and sustainability within the health ecosystem, placing a strong emphasis on enhancing health professional wellbeing. By implementing innovative strategies and initiatives, it aims to equip future health professionals with the skills, tools, and mindsets that promote wellbeing and ensures their long-term sustainability and contributing to high-quality patient care.
Championing legislation awareness and policy change.
This initiative takes a proactive stance in championing legislation awareness and policy change that directly impacts health professional wellbeing. By advocating for reforms that prioritize healthcare workforce support, it aims to bring about meaningful changes in policies that address key issues such as work-life balance, burnout prevention, mental health support, and fair working conditions, ultimately promoting the overall wellbeing and resilience of healthcare professionals.